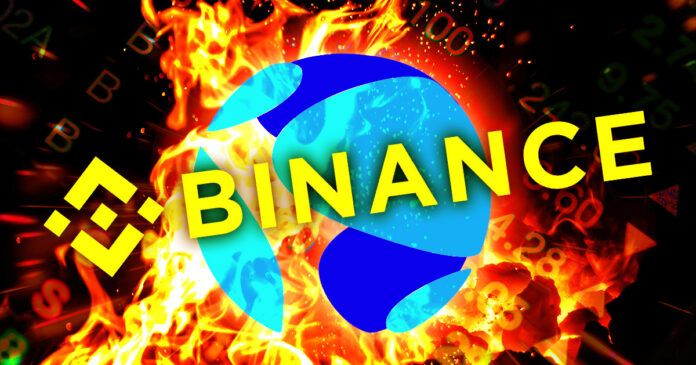 Binance announced that the exchange has started applying the 1.2% tax burn on Terra Luna Classic (LUNC) trades.
The announcement stated:
"Binance will implement a burn mechanism to burn all trading fees on LUNC spot and margin trading pairs by sending them to the LUNC burn address."
The calculation of total LUNC to burn will be done each Monday at 00:00 UTC for the week prior. The amounts of burned LUNC, its USDT equivalent, and its on-chain transaction ID will also be revealed every Tuesday at 00:00 UTC in the announcement post.
Change of plans
On Sept. 23, Binance CEO Changpeng Zhao (CZ) was asked about the LUNC tax burn during an AMA session on Twitter, where he explained why Binance wouldn't apply the burn. CZ came up with an alternative approach to the subject a few hours after the AMA.
He suggested implementing an opt-in button for LUNC holders to switch on if they wanted the tax burn to be applied. Then, based on the percentage of users who opt-in, Binance would make the burn permanent or eliminate it completely.
On Sept. 26, however, CZ tweeted that Binance gave up on its plan to implement opt-in choices, mainly because it wasn't received well by the community and would take too much time to develop.
Three things here:

1) The LUNC community wasn't happy with this approach.
2) It's going to take a while to develop.
3) It's not going to work anyway. Our traders won't vote for it.

Since then, we were discussing a better, quicker way to support the community.

— CZ 🔶 Binance (@cz_binance) September 26, 2022
Instead, the Binance team decided on a LUNC burning plan to respond to the requests of the LUNC community and maintain a good trading experience.
Further details & affected prices
Binance's burn decision will apply to previous LUNC transactions as well. According to the announcement post, the first batch of LUNCs to be burned will be calculated from Sept. 21 to Oct. 1, 2022, at 00:00 UTC. However, the LUNC spot and margin trading fee rebates between Sept. 21 and Sept. 27 will be excluded from the calculation.
This new mechanism will grant the LUNC community's wishes without affecting the prices. To make sure that the tax burn system is fair to all users, CZ said:
"Instead, we have decided to begin burning all trading fees collected on the LUNC/BUSD and LUNC/USDT spot and margin trading pairs on Binance. Fees will be converted to LUNC then sent to the burn address. The burn is paid at our expense, not the users"
If trading fees on LUNC spot and margin trades are collected in a token other than LUNC, the token in question will be converted to LUNC with real-time exchange rates before the burn.

Credit: Source link