More investments continue trickling into Ethereum 2.0 deposit contract based on the historic highs noted.
Market analyst Ali Martinex pointed out:
"Roughly 150,000 ETH, worth around $195 million, have been transferred to the ETH2 deposit contract over the past week, hitting a new all-time high of 13.9 million ETH staked."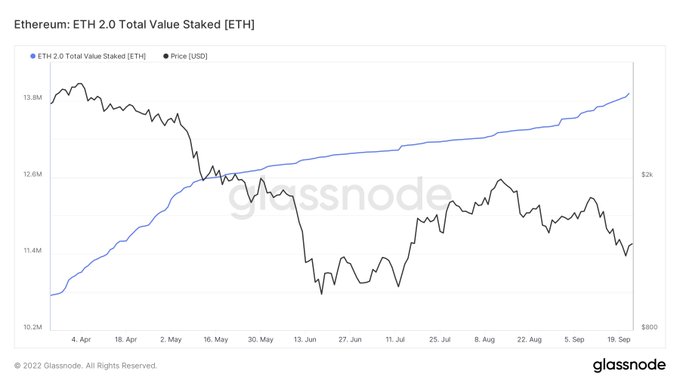 Source: Glassnode
The ETH 2.0 deposit contract was launched in December 2020 to aid the change of the proof-of-work consensus mechanism to a proof-of-stake (PoS) framework called the merge.
The much-anticipated merge went live on September 15 setting the ball rolling for a PoS structure on the Ethereum network. Therefore, it is expected to propel Ethereum's quest of becoming a deflationary asset.
Nevertheless, a recent analysis highlighted that Ethereum had to undergo four more steps to solve the scalability problem even after the materialization of the merge. 
The four phases include the surge, the verge, the purge, and the splurge. Their time frame is not well defined. Sameep Singhania, the co-founder of QuickSwap, stated:
"It's hard to talk about the timelines of the following four stages because all of them are still under active research and development. But, in my opinion, it will easily take 2-3 years before all phases are complete." 
Meanwhile, the median transaction volume on the ETH network has nosedived. Crypto insight provider Glassnode explained:
"ETH median transaction volume (7d MA) just reached a 23-month low of $32.38."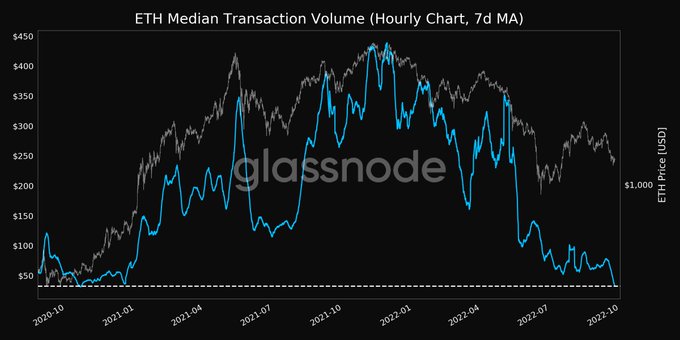 Source:Glassnode
On the other hand, gas usage has been increasing, suggesting that the gas fees paid in transactions have remained high. Glassnode added:
"ETH median gas usage (7d MA) just reached a 3-month high of 47,461.113 Previous 3-month high of 47,349.137 was observed on 23 September 2022."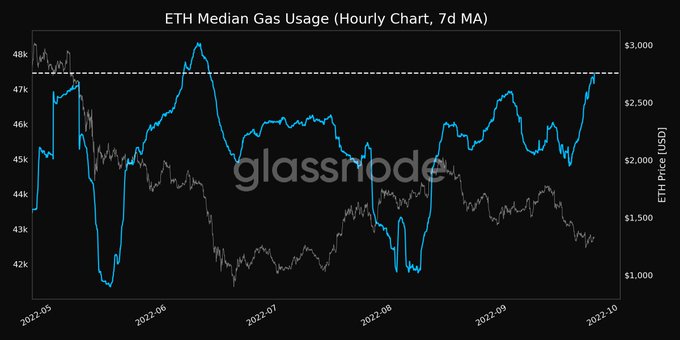 Source: Glassnode
Ethereum was hovering around the $1,330 area during intraday trading, according to CoinMarketCap. 
Image source: Shutterstock

Credit: Source link