Another week is here, and the crypto market is ripe with opportunities. Some coins are trying to get some gains after a bit of a bearish move through the second half of last week. So, investors can find some of the top crypto to buy this week.
We'll look at some of these coins in the review below so that you can put yourself in a winning position going forward.
1. Solana (SOL)
Solana's SOL token is kicking off our list of top crypto to buy this week. The blockchain token was one of the hottest properties of 2021, registering a growth of almost 10,000%. Its performance has been a bit lacklustre in 2022, but that's in line with the broader market.
SOL currently trades at $95.11 – a jump of 4.84% in the past 24 hours. Compared to the broader market's jump of 2.78% in the past 24 hours, SOL is doing relatively well. It is also worth noting that SOL has performed better than most large-cap coins during the past few recoveries.
There's also a lot of hype around SOL for long-term traders because of growing Solana prospects. Last week, banking giant Morgan Stanley released a report highlighting how the Ethereum blockchain could be losing its spot as the top blockchain platform.
The report explained that Ethereum could lose its smart contract superiority to other competing blockchains. As expected, Solana comes first to mind – marking another bullish push for SOL.
This month, Solana also launched Solana Pay in partnership with FTX, Circle, Checkout.com, and Citcon. The tool is expected to be a peer-to-peer payment infrastructure for online merchants and point-of-sale providers to accept payments in select coins easily.
With Solana's ecosystem continuing to grow, SOL has good prospects.
2. Binance Coin (BNB)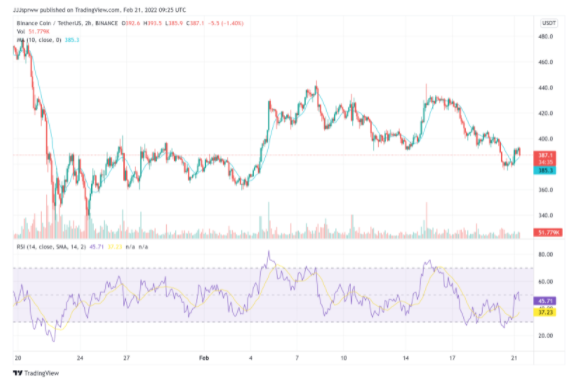 Another feature on our top crypto to buy this week is BNB. The native token for Binance, BNB powers multiple functions on the Binance ecosystem.
BNB is currently trading at $387 – a jump of 1.68% in the past 24 hours. The asset is a long way from its all-time high of $691. However, recent moves by Binance show that the company is serious about growing – and boosting BNB's price in the process.
Last week, Binance announced that it had partnered with the Association of Banks of Russia to facilitate dialogue with local authorities in the country over crypto regulation. The association, which includes over 300 banks and covers 90% of Russia's financial landscape, approved Binance's entry by creating a dedicated expert centre for digital assets and finance.
With Binance's participation, the Association of Banks of Russia believes it can turn Russia into a crypto hub. Interfacing with regulators is a key part of that, and they hope to achieve this going forward.
The move sets the pace for Binance's possible expansion into Russia. Coupled with the other countries where Binance has been making headway, the company appears keen on keeping its growth trajectory.

3. FTX Token (FTT)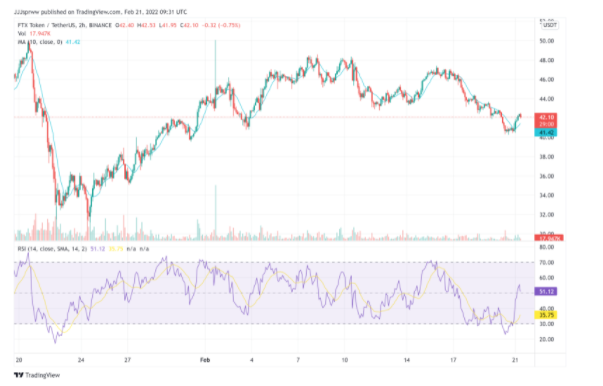 Exchange tokens remain a hot topic in the crypto space right now, and FTT is another top crypto to buy this week. It features on our list of the best coins to buy because of the moves being made by FTX – one of the largest exchanges in the world right now.
FTX has been the crypto industry's darling since it was launched. The exchange has expertly navigated the market, offering a viable challenge to the Binance-Coinbase duopoly. When it comes to derivatives trading, FTX has Coinbase comfortably beat.
Despite the bearish rut that started the year, FTX has had a roaring start. The exchange has launched a venture capital arm that will spend its $2 billion war chest on other fledgling companies. FTX is also prepping an entry into traditional stocks offerings.
All of the good news culminated in FTX's fresh funding round, which saw the company raise $400 million at a $32 billion valuation. FTX US, its American arm, raised the same amount of money – although at an $8 billion value peg.
If you believe in growth, it's hard to see why you won't invest in a company that managed to almost double its valuation in less than a year.
4. XRP (XRP)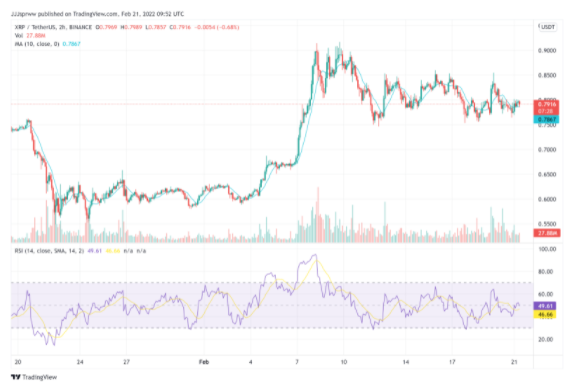 XRP has lost a lot of steam on the CoinMarketCap charts, but remains on of the top crypto to buy this week. The asset has given way for other big-name coins, and the lawsuit between its developer, Ripple Labs, and SEC (Securities and Exchange Commission) has also not helped matters.
But XRP had an impressive outing last week. While most other large-cap coins saw big drops in their values, XRP lost only 0.03%. Heading into Monday, XRP is already 1% up in the past seven days – most other large-cap names are either significantly down or up less than 0.1%.
XRP's big break came from Ripple Labs getting permission to respond to the SEC's Memorandum of Law supporting the Motion to Strike fair notice defence.
The move brings another twist to the seemingly never-ending case between the two, and investors are still watching closely for developments. Can XRP ride this wave back above the $1 line? Let's see.
5. Terra (LUNA)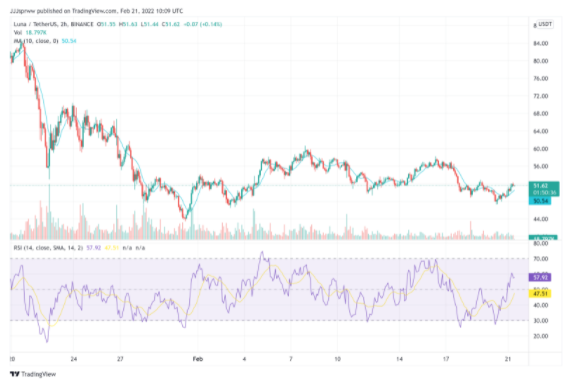 Terra has been one of the biggest unsung heroes in the crypto space. The asset has quietly crept its way into the top 10 CoinMarketCap rankings, and it doesn't seem to be letting go of that position anytime soon.
This year, Terra has been doing a lot to strengthen its position in the industry. The blockchain's decentralised autonomous organisation (DAO) began sponsoring the Washington Nationals baseball team. Also, they recently injected $450 million in their UST stablecoin into the Anchor protocol to strengthen the latter's yields.
With an expanding ecosystem, Terra's LUNA token is looking more attractive to investors. The asset has a 4.46% gain over the past 24 hours, beating all other coins in the top 10 rankings.
Read more:

Credit: Source link